"The power of Heather and Samuel together is a remarkable thing."
It was during a a rugby match when he was nine years old that Samuel's life changed in an instant when he suffered a spinal stroke.
"Within the space of minutes he went from being able to walk, to not being able to use his legs properly" says mum, Ali. Sam was left paralysed and unable to walk. "I'll never forget the day that I had to break that news to Samuel."
Unconditional friendship, love and devotion
Life changed for the better with the arrival of assistance dog Heather. Heather stays with Samuel in his room at night, helps him off with his socks, fetches his slippers, retrieves things he's dropped and all sorts of other practical tasks.
"The biggest things she's brought Samuel are unconditional friendship, love and devotion" says Ali. "She's helped him so much mentally, which has a huge impact on his confidence and determination."
The power of assistance dog Heather and Samuel together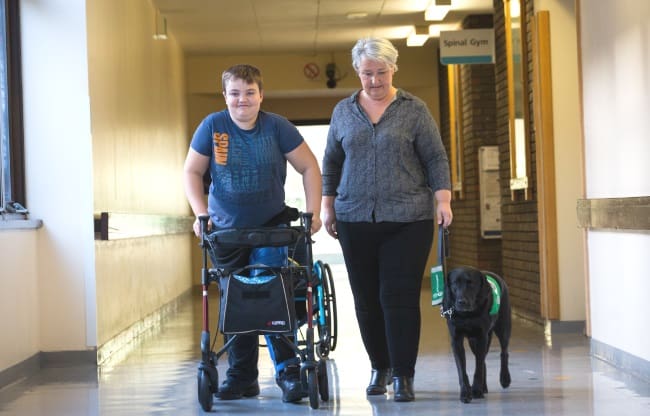 The first hospital tests that Samuel went for after getting Heather were remarkable. "His walking ability is tested every six months," explains Ali. "Before Heather, he had a real mental block about it and it was something we all dreaded."
"The first time we went with Heather, Samuel said 'I don't care, I'm doing it and I'm going to do it for for Heather.' He was calm, relaxed, utterly determined and what happened next was incredible."
With his best friend walking beside him, Samuel aced the test. "He doubled the amount of steps he took and took them in under half the time it had previously taken him. I was speechless. The power of Heather and Samuel together is a remarkable thing."