"Emotionally, Duke gave me my wife back. He's an absolute godsend."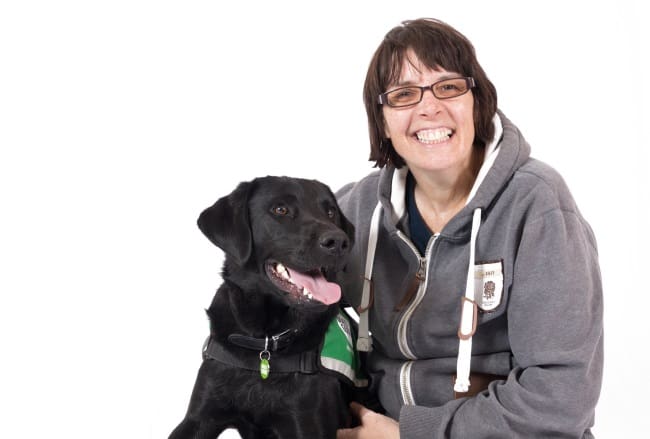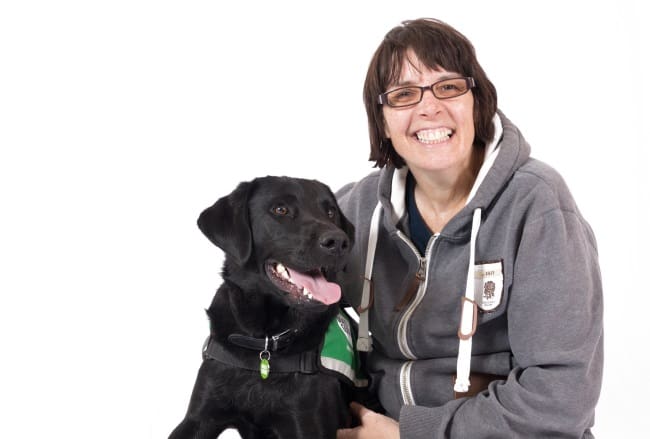 Prior to being diagnosed with Relapsing Remitting Multiple Sclerosis at the age of 41, Jacqui had been a very physically active person; as well as regular long walks in the beautiful countryside surrounding her home in Hampshire, she was an accomplished Latin dancer and had a horse that she rode every day and the pair would enter dressage competitions.
"My physicality was deserting me and I started to become withdrawn," explains Jacqui. "I felt lonely and isolated because I couldn't safely get outdoors on my own. In addition, because I was down a lot of the time, my husband, David, started to suffer with feelings of guilt and frustration. He still had to go out to work every day and obviously hated leaving me."
In the past, Jacqui and David had talked about the possibility of getting a pet but with Jacqui now in a wheelchair, they didn't feel that they could.
"Having both had dogs in the past, we really wanted another one. But then we started thinking and it struck us that perhaps we would be able to get an assistance dog," says Jacqui.
Meeting Duke
When Jacqui and David attended an information day at Dogs for Good, the trainers brought in a couple of assistance dogs in training to help guests understand what tasks the dogs can undertake.
"One of those dogs was a gorgeous black Labrador called Duke," smiles Jacqui. "He came in, had a look around the room, locked eyes with me, barrelled over and stuck by my side for the rest of the day. He knew, I knew, David knew and I think everyone else knew that he was making his feelings clear. He definitely chose me."
Jacqui's application was successful and she remembers the phone call vividly. "I cried and cried when I was told I was getting a dog. And because it was in no way a given that I'd get Duke, when I was then told it was going to be Duke, I cried some more!"
Bringing independence
From the moment he arrived in their lives, as well as being able to carry out tasks such a s picking up dropped items, opening doors, bringing her the phone and remote controls etc. he helped to repair Jacqui's confidence and ease her grief. "The world suddenly became brighter and I started to feel more like myself." she says. She was finally able to get out and about and within a short space of time, had purchased an all-terrain wheelchair. Which she has named 'Gloria'!
"Now there's virtually nowhere I can't get to," she enthuses. "Duke, Gloria and I go out every day into the meadows locally and come back covered in mud, or we'll go to the beach."
According to David, there are no words to accurately describe the change Duke has brought about in Jacqui and as a result, in his life, too. "On a practical level, I don't worry about being away from the house any more because I know Duke will keep Jacqui safe as well as helping her with everyday tasks.
"Emotionally, he gave me my wife back," he says. "He's a godsend, an absolute godsend."
Find out more about assistance dogs for adults.