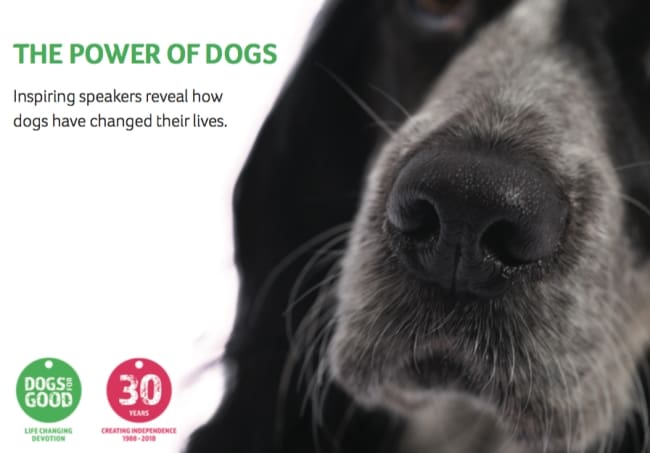 With 8.5 million pet dogs curling up at their owners' feet and 24% of the country's households owning one or more dogs, the UK's dog-loving denizens prove, without a doubt, that canine companions hold a very special place in the nation's hearts.
There's nothing a dog-lover likes more than to talk about their four-legged friend, so, as part of its 30th anniversary celebrations, Dogs for Good is running a series of four inspirational evening events focusing on the phenomenal Power of Dogs.
The events comprise short, powerful talks from well-known celebrities such as Brian Blessed and Peter Purves, as well as respected academics, veterinary behaviour experts, photographers, authors and Dogs for Good Chief Executive, Peter Gorbing. All events aim to provide an interesting insight, from different viewpoints, into all that canine companions bring to the lives of humans.
Dogs for Good is a UK charity that brings dogs and people together to help overcome specific challenges and enrich and improve the lives of both. The charity uses a range of different approaches, including highly trained dogs (Assistance Dog service), support to families and their companion dogs (Family Dog service) and therapeutic support using animal assisted intervention techniques (Community Dog service).
Peter Gorbing comments: "It is this special human-dog bond that opens up so many possibilities and positively influences the health and wellbeing of both people and their dogs. Although our focus is on supporting people with disabilities, our ideas and approaches to supporting dogs and people is highly relevant and applicable to the wider dog-owning public."
A study recently carried out by the University of Lincoln, supported by Dogs for Good, found that dogs are saving the UK health sector an estimated £2.45bn a year; primarily the result of fewer visits to the doctor and improved mental wellbeing.
In a recent survey carried out by Dogs for Good dog owners were asked to comment on how their dog had contributed to their overall health and happiness. Respondents attributed their dog to helping them cope with some of life's greatest challenges including dealing with the loss of a loved one, helping to cope with depression and anxiety and supporting people through cancer. One respondent, who had experienced levels of severe depression in their life said: "Our dog is a constant reminder that for all the sadness in the world, life really is wonderful and precious."
The talks all run from 7pm through to 9pm and start off in Oxford on 24th May. Manchester follows on 6th June, then London on 31st October and finally, Cambridge on 15th November. Tickets cost £10 each and all proceeds will go to support Dogs for Good's life-changing work.
Tickets are available online for Oxford and Manchester now – click here to book.