"Before, I was just a lady in a wheelchair. Now, I'm Ann with the lovely, clever, amazing dog and my disability fades into the background."
Twickers is a Labrador/golden retriever cross and is Ann's second assistance dog. Ann is a wheelchair user with needs arising from the brain haemorrhage she had in 2001.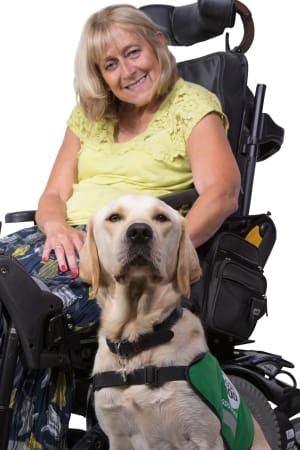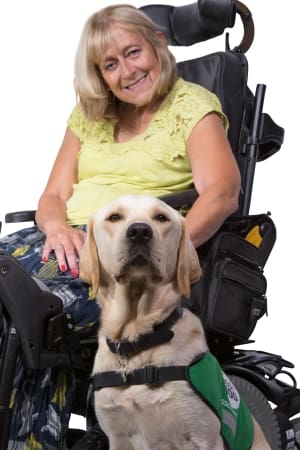 "I went to bed one night with a really bad headache and woke up from a coma six weeks later in hospital," she explains. "In total, I spent 10 months in hospital before coming home to a life, my life, which had changed beyond all comprehension. I became withdrawn and fearful of the future."
Then Ann met a lady who had an assistance dog and encouraged her to investigate having a dog herself. Not long afterwards, Ann found herself attending an open morning at Dogs for Good. "It was a total game-changer," she recalls.
Interestingly, Ann says that she came away from the event feeling that she didn't 'deserve' to have an assistance dog as there were people attending the event who were, in her own eyes, 'far more deserving' than herself. Nevertheless, she went ahead with her application and was astounded to receive a letter saying that her application had been successful. "I felt special again – rather than just lady in a wheelchair with special needs," she explains.
Ann was partnered with Dazzle, her first dog, and started the training course at Dogs for Good's HQ in Banbury. "It was exhausting!" she laughs. "But my training team were amazing; gently reassuring me that one day it would all just 'click'." And click it did. "That moment was incredible. It was the day that my new life changed for the better."
Independence, fresh air, broader horizons, safety, meeting new people, confidence, elevated self-esteem. All words and phrases that Ann uses when asked what benefits her assistance dog brings.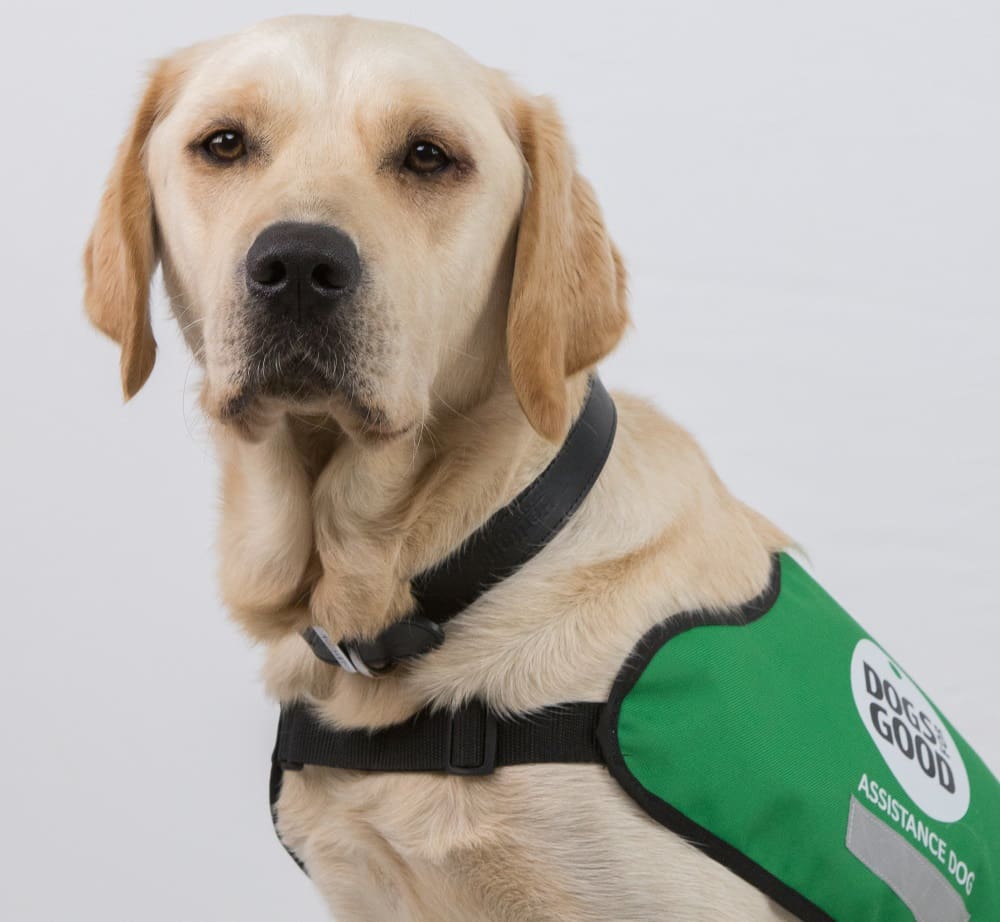 Help us train more dogs like Twickers
Sponsor a puppy and help us train more dogs that change lives
"Aside from helping me pick things up, opening and shutting gates and doors, bringing me the post, pulling off socks and gloves etc. it's the stuff you don't expect that brings you the most joy.
"I'd loved my pet dogs in the past but the bond you get with these dogs is something else. Your self-worth is elevated because you have to care for another life; grooming, walking, feeding, rather than being the one that receives care. Having the dog doesn't just give me confidence, it gives my husband and daughters confidence, too, because they know I'm not ever on my own.
"Before, I was just a lady in a wheelchair. Now, I'm Ann with the lovely, clever, amazing dog and my disability fades into the background."
Tragically, after six years together, Dazzle passed away suddenly as a result of an allergic reaction to a routine vaccination. "I was utterly heartbroken," recalls Ann, "but the team at Dogs for Good supported me and managed to convince me that I could find enough love in my heart for another dog."
Enter Twickers. "He's totally different to Dazzle but that's not a negative thing!" says Ann. "He's utterly amazing and I love him to bits. He is the fastest dog I've ever seen and is totally obsessed with balls!"
The pair have been together since mid-2017 and have formed a very strong bond. "He's always looking forward, so that's what we do. The past is behind us and every day brings with it the opportunity for chasing more balls!"
"Twickers has no concept of my past and because of this, he keeps me firmly focused on my present and, most importantly, my future."