Want a dog but too busy to have one?  Live in the Banbury area?  Life transforming Charity Dogs for Good is after people like you!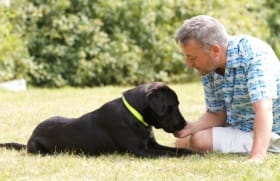 Dogs for Good urgently needs volunteers to look after their amazing dogs-in-training on a 'bed & breakfast' basis.  Volunteers will look after a dog in the evenings and at the weekend, taking them home to have a well earned rest from their training – perfect for people who are out at work or have other commitments during the day.
Potential volunteers will need to have an enclosed garden and be able to drop the dog off and pick them up from the Dogs for Good Banbury centre.  You'll be provided with everything that you need for the dog, which will be training to become an assistance or community dog to help people with disabilities.
"I wasn't quite sure how I would deal with saying goodbye.  The dogs are all so amazing with a unique personality; you can't help but love them all.  The first time I watched the result of the training and absolute commitment from the trainers, I had a tear in my eye and it all made sense." says Alison, B&B boarder.
Potential volunteers must…
be able to bring the dog into the Charity's Banbury centre in the morning and pick them up at the end of the day Monday – Friday
have a secure, enclosed garden with a fence or wall measuring at least 5 foot
be able to exercise the dogs as required by their trainer
not leave the dog for more than a four hour period and have no more than two pet dogs
be aware that B&B Boarding lasts from 16 – 18 weeks
If you fulfil these requirements please click here to download an application form.