Help transform lives: Meet the Team, Saturday 9th September at Coley Park Community Centre, Reading.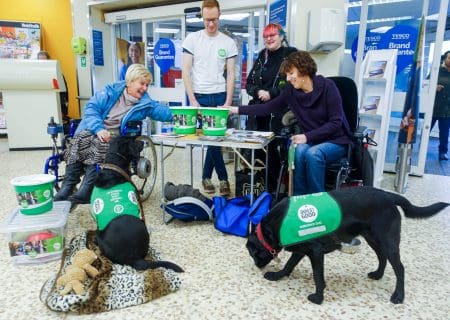 Life-transforming charity Dogs for Good is currently seeking new fundraising volunteers in the Berkshire area to help raise much needed money to train more dogs, as well as raising the profile of the charity in the county.
They are holding an Meet the Team session for people who would like to find out more about volunteering on Saturday 9th September from 10am – 12.30pm at the Coley Park Community Centre, Reading, RG1 6DW.
There will be an opportunity for those interested in volunteering to talk to Regional fundraiser Lisa and  fundraising volunteers Stephen and Sandy. Stephen is also a client of Dogs for Good and will have his assistance dog Scott with him, so you can find out how the charity makes a difference to people's lives.
Dogs for Good's fundraising volunteers take part in a variety of activities, including attending local fundraising events, organising their own events such as craft fairs, dog walks and quiz nights and being trained to give talks about the Charity to local community groups.
It's a great way to make new friends and learn new skills, give back to your local community and help Dogs for Good to train more dogs to support more people with disabilities. There is no minimum commitment and volunteers can choose activities to fit around their schedule.
Find out more about fundraising and volunteering.