Charity Dogs for Good has hosted a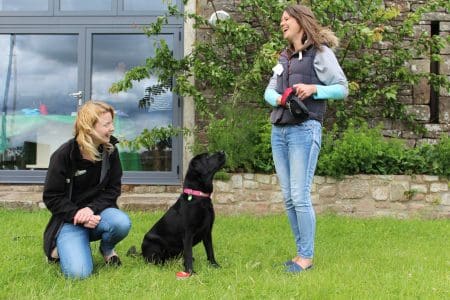 specialist workshop for families with a child with autism at Humble by Nature, the working farm of broadcaster Kate Humble based near Monmouth.
Over 800 families have attended Dogs for Good's Family Dog workshops to date and discovered how to un-tap the potential of a pet dog, but this is the first time that the workshops will be held in Monmouthshire.
Broadcaster and dog lover, Kate Humble who owns Humble by Nature said: "The Dogs for Good workshops are a brilliant resource for parents of autistic children and I'm delighted that we're able to help even more families take part."
Research has shown that a pet dog can provide really life-changing support to help families with a child with autism, helping to reduce parental stress; help families go out more together and children with a pet dog experienced fewer meltdowns. Dogs for Good's Family Dog workshops also help families to understand and care for the dog's needs ensuring that everyone benefits from the relationship.
Family Dog manager, Duncan Edwards explains: "Parents are able to get advice on choosing the right dog for their family, get training advice and support and learn how a dog can provide help and support for a child with autism – everything from helping to reduce a stressful bedtime routine to acting as a motivator to a child who is anxious about leaving the house."
Parent Liz Bull attended the workshops two years ago to see how their Labrador might help her son Jacob, who has autism: "I remember at the first workshop, I just couldn't believe it when the instructors went through what they could teach us and how it might help Jacob. I just sat there and cried. I was thinking 'this could be life-changing, it's just amazing.' It was also brilliant to meet and talk to other parents of autistic children. I remember thinking 'We're all in this together, our struggles are real and these people really understand. We are not alone.'"
Duncan Edwards said: "We're hugely grateful to the team at Humble by Nature for helping us provide an additional set of workshops this year. We know that incredible things can happen when we bring people and dogs together and our Family Dog workshops are such a good illustration of what can be achieved."
Find out more about our Dogs for Good's Family Dog workshops.