It may surprise you to know that a major part of the income we raise comes from gifts in Wills. Sue from Derby tells us in her own words why she has decided to support Dogs for Good in this way.
My initial contact with Dogs For Good was in 2014 following the loss of my beloved father Charles Evan Grainger. Dad had always been a very active gentleman and a life long dog owner, who thoroughly enjoyed his time spent walking his two Dalmatian dogs in the beautiful Derbyshire Countryside where he lived.
When Dad passed away in December 2013, we wanted to do something in his memory to celebrate his love for dogs. Supporting a puppy through their training with Dogs for Good felt like the perfect way for his memory to live on.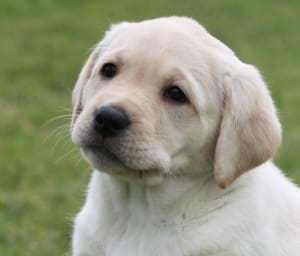 "Hilda" was born in February 2014 and throughout her training our family were involved and informed of her progress every step of the way, which has been very special to us. Hilda soon became affectionately known as "Hurricane Hilda", due to the boundless enthusiasm with which she approached every task!
Hilda graduated and was matched with her new family on Dad's Birthday this year – it was the most wonderful birthday gift our Dad could have received.
Knowing that Hilda is now a fully working assistance dog and also a great friend to nine year old Lily, who has Spinal Muscular Atrophy, touches our hearts and fill us with pride.
Hilda is everything we could have wished for, and more, in memory of our beloved Dad.
I have personally found this journey so inspirational that I too have been moved to leave a Gift in my Will to Dogs For Good, which will support the lifetime cost of training another wonderful assistance dog, in the knowledge that at some point in the future my gift will enable a partnership, a friendship and an unbreakable bond such as the one which now exists between Hilda and Lily.