Caroline Slaney is sharing her experience of introducing a puppy to the family home and exploring how it may help her two children who both have autism. Caroline is attending our Family Dog workshops and just before starting the workshops the family got their puppy Sandy, a cockapoo. Here's her second blog about how Sandy is settling into the family: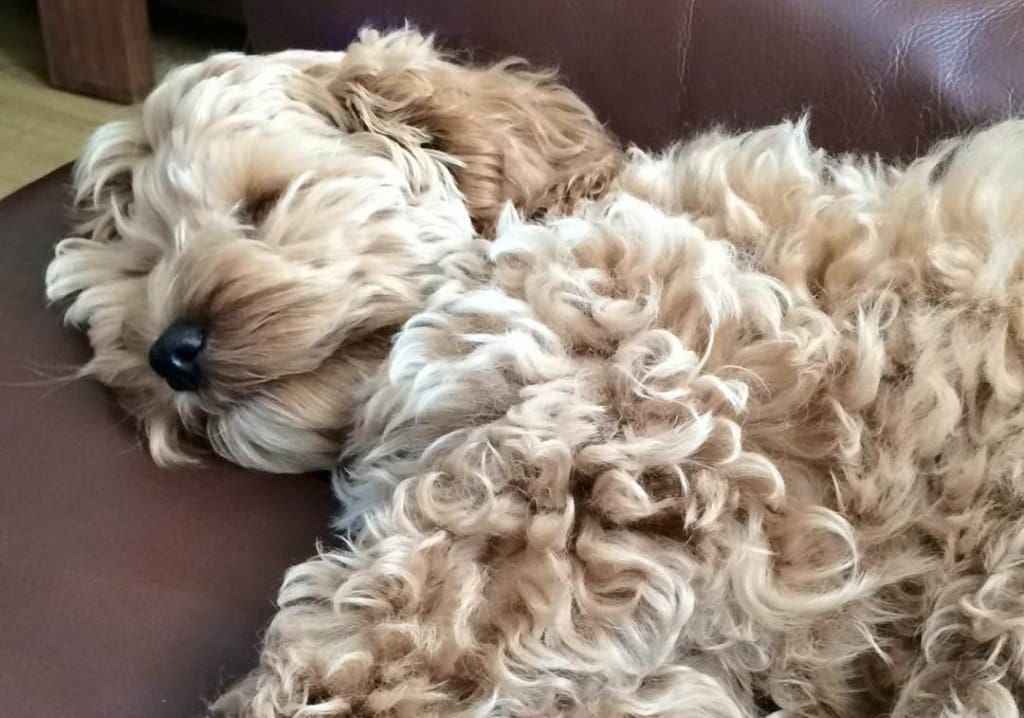 "I know it's a cliché, but it really feels as if Sandy has always been a member of the family.  She's settled in brilliantly and we all automatically look down when walking now – just in case she's there crying out to be stood on!'
In a collaboration between Dogs for Good and University of Lincoln, many parents felt that even in the early days of owning a dog they saw positive benefits for their family…
'My youngest, Paul, has changed so much since Sandy arrived.  He still has his meltdowns, but he revels in taking responsibility for Sandy and loves taking her out into the garden first thing in the morning, getting her food ready and taking her for walks.  School have told me how brilliantly he's doing and seems to be focusing more, he enters and leaves school with a big grin on his face.  He's still a bit of a chew toy for Sandy though!
Kirstin loves Sandy to bits, gets fully involved with training her and gets lots of cuddles.  She seems much happier and instead of The Simpsons on constant repeat has been getting more into her reading, which is great to see.
A dog can be a reason to do things together as a whole family…
Sandy gets so much attention when we all go out for walks, it makes the kids so happy to have such an adorable, popular dog.  It does make walks twice as long but it's so lovely to speak to people about her (and helps Kirstin's socialisation skills).  I don't think I've seen anyone walk past Sandy without raising a smile.
Bringing a puppy into the house can create challenges for the family too…
'We knew that getting a puppy, although adorable, would come with its own set of challenges.  The main one for us has been the nipping.  The whole family have been warned that Sandy can nip – particularly when she's super excited when the kids or the grandparents visit.  With no experience of this, the family can struggle and flap their hands about a bit, my mum even gets a little scared sometimes.  The kids are Sandy's favourite and she will chew at their clothes and nip at their ankles. I've had to buy quite a few new pairs of tights and pyjamas!  When it gets too much they will try and run which we've tried to explain isn't the best thing to do, but it's just instinct to them.  I'm hoping that with time, and with a bit more reading up on tackling the nipping, it will stop.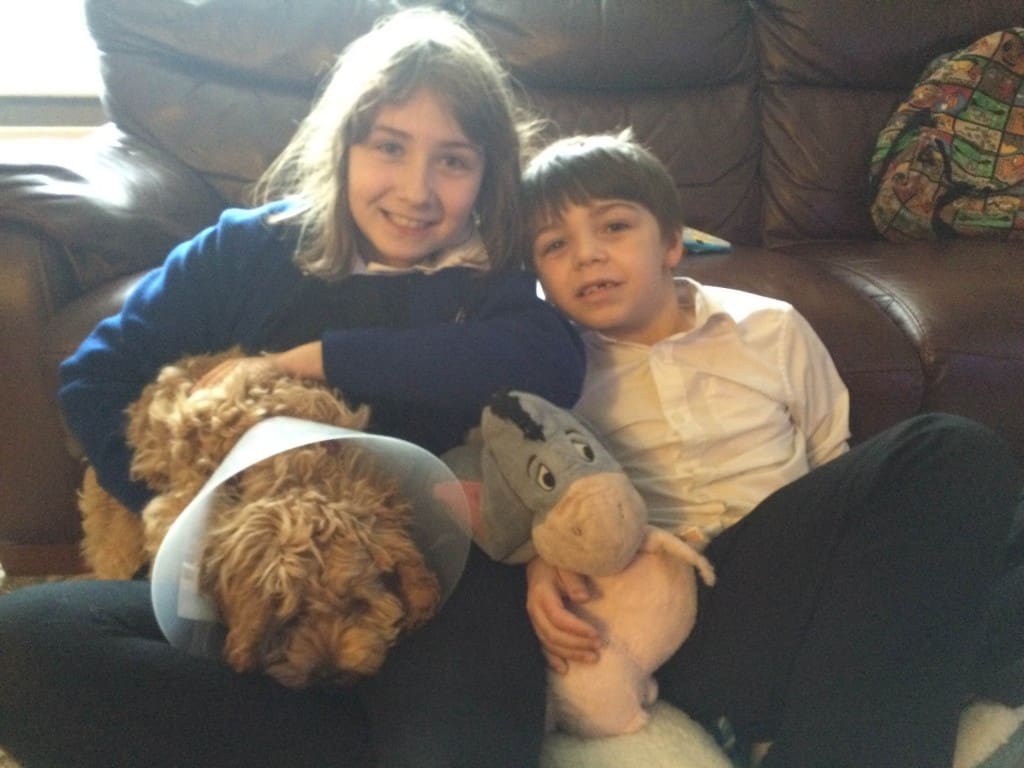 We had Sandy spayed this week, she spent the day totally comatose, which was very strange to see and the kids were very worried about her but I was able to reassure them. Sandy's got the cone of shame and doesn't look impressed, I'm hoping she'll forgive me soon."
Find out more about how dogs can help people with autism.
You can help us support more people like Caroline and her family by making a donation to help us provide more workshops and on-going aftercare.