In 2016, mum of two autistic children, Caroline Slaney, attended her first Family Dog workshop.  Just before starting the workshops the family got their puppy Sandy, a cockapoo. Caroline is going to regularly share some of the family's experience of introducing a puppy to the family.
The day finally arrived when we could pick up Sandy from her breeder. I have two kids, Kirstin (9 with Asperger's) and Paul (7 with Pathological Demand Avoidance (PDA). Kirstin has wanted a dog for years and the day was so overwhelmingly exciting for her but Sandy could not have been more perfect. Of course, she's had loads of cuddles, but we also quickly introduced her to her crate – her very own safe space – it's been great that she has it, I was amazed that Sandy took herself away whenever she was tired or just needed a bit of space.
The other important space we've been teaching her to use is her outdoor toileting area – we've given her own designated area so it's easy for us to manage. After she's been to the toilet she has a run around the garden, she makes us laugh with her ears flapping about and running around. At the moment she's still too young to go out for walks as she hasn't had all her vaccinations done, it'll be really great when we can all take her out.
Already we've noticed that Sandy is fitting into the family very well.  She's very happy to go exploring and whenever a door is open she'll have a sniff around. I've started training straight away and she's already mastered 'sit'. I'm trying with 'down' now. She can follow the food into the position but I think she's getting confused with the command as it's too easy for others in the family to say 'down' when she's jumping up at you during one of her (many) hyper moments.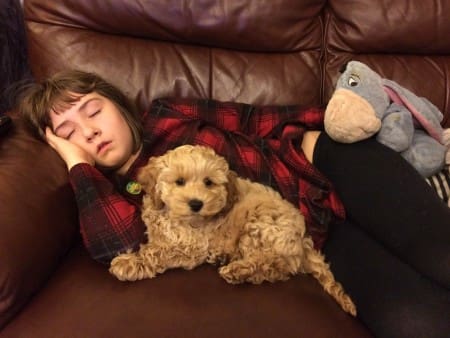 We've had to give Sandy a couple of baths: the first because she'd rolled straight in her poo and it got stuck in her fur – I guess these things are going to happen! I was really pleased that Kirstin helped me out and we even used the hairdryer on Sandy which she took all in her stride. She was actually easily to wash than the kids!
She's had two visits to the vets, which she's handled admirably and the staff there have volunteered to dog sit her! She gave an almighty yelp when having her vaccination though.
The Family Dog team has already proved to be a great source of support and help. As a parent with two children on the autistic spectrum it was a big decision to get a puppy but the workshops and the support have really helped us to consider everything we need for both our family's needs and the needs of our dog.