When new supporters come on board at Dogs for Good, it's generally because they heard a story that touched their heart.
We train assistance dogs to support people with a physical disability, autism, and dementia, but the story might well have been about a charity volunteer or staff member making a real difference in the world.
The stories we tell are powerful enough to change lives, which is why we actively recruit volunteer speakers to address our audience in person. If you have a personal story to tell, support our cause, or simply enjoy getting out and about to meet all kinds of people, becoming a registered speaker could be a rewarding volunteer path for you to follow.
Support charity through word of mouth
Every time a volunteer speaker is booked to attend a group or event and represent Dogs for Good, we receive a donation. Audience members learn about the work we do and go home to tell their friends and family. It goes on, and all the while we gather new supporters and fundraisers. Each of them helping to keep our story alive.
This is vital for us to raise important funds to carry on our pioneering work.
Registered speaker
Teresa's volunteer story
After many years of feeling like prisoners in their own home, we matched the Fletcher family with autism assistance dog, Quartz. Teresa's daughter, Bethany, has autism and couldn't cope with leaving the house before Quartz arrived to keep her calm.
Life is now far easier for all the family, says Teresa:
"Without Quartz I dread to think what our circumstances would have been today. We are so very grateful and I wanted to help in any way I could. I decided to become a speaker, so other families can benefit from an assistance dog like we did."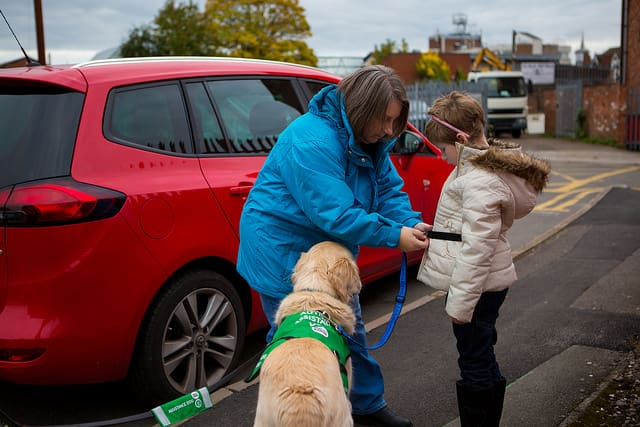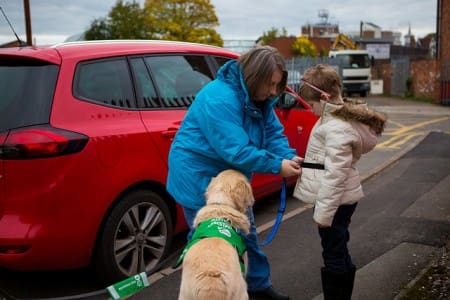 Teresa raises funds for Dogs for Good via the Warwickshire Supporters Group and attends events in her local area to speak about her own experience.
However, you don't need to any experience of our services to enjoy talking about them.
Teresa tells us she loves what she does and "can talk for hours" so, if you like to chat, this could be right up your street.
Local volunteer UK
We have volunteer speakers registered all over the UK who choose how far they're happy to travel, but each one tends to cover their local area.
Speaking engagements can be for all manner of clubs and societies, from Brownie Groups to Golf Clubs, the WI or your local school.
Whether you're new to public speaking or an old hand, we'll give you all the tools you need to get started:
A presentation you can use
A DVD of our promotional films to show
Opportunity to attend speaker training sessions
Really, all you need is the confidence to speak in front of others and a genuine enthusiasm for our cause. The impact of this keeps on working long after the event.
Find out more about volunteering with Dogs for Good
If you like the sound of this role, contact our community fundraising team for an informal chat about becoming a registered speaker.
Call them on 01295 252600 or email [email protected].