Sox arrived in 2013 when Toby (then eight), who's badly affected by autism, was highly anxious, self-harming and even talked about ending his own life. In just two weeks Sox transformed the atmosphere in the house and Toby said, 'I just feel better now Sox is here'.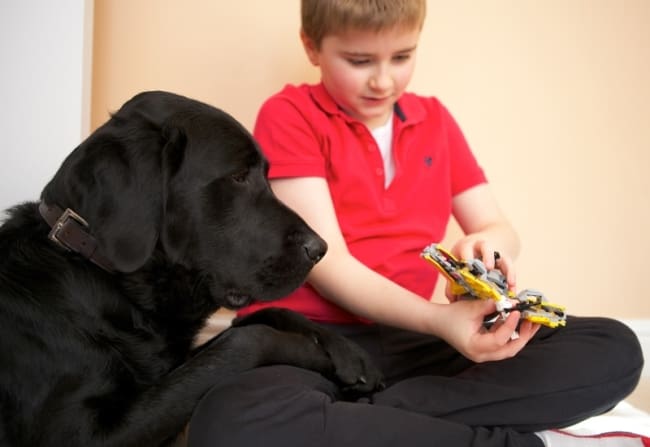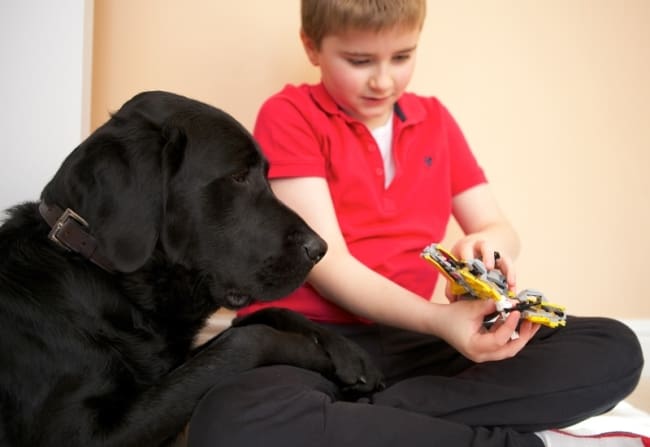 Mum Vikky says: "The way Sox continues to change and improve our lives is just amazing. We took Sox with us on holiday to France this year; we've been several times before without him. Toby said it made this year's holiday there the best ever.
It's so lovely to see the way Sox helps every day to increase Toby's confidence. Toby was anxious about joining mainstream school classes so, with the school's permission, we used some reward play sessions with Sox after each class to help him.  It worked beautifully and Toby is now integrating into more mainstream classes which is just the most fantastic achievement.
Anxiety has held Toby back at school but this term he began writing in class; he's never written anything before, except in birthday cards with Sox supporting him, so this is a real milestone.  We're all, including Toby, confident that he'll be happy to move up to a mainstream school with an autism unit, something I never thought possible.
Toby knows that time with Sox makes him feel calmer and relieves stress so he now actively seeks comfort time with Sox without prompting. He just seems to be willing to try new things now. We've tried many new things with Sox to support Toby and this has helped Toby understand that new things can be scary but generally turn out really well.
We received over 4, 000 enquiries in 2017 for our services. You can help us train more dogs like Sox by

making a donation today.
Recently he went on a bus for the first time with his big sister to Oxford for a relaxed trip to town. We told him Sox might be nervous or worried if it was his first time on a bus and how he would cope – take a big breath and sit – and this helped Toby cope with his nervous feelings  (I was never far away, but Toby didn't know I was around). Toby's sense of achievement was fantastic.
Last, but by no means least , Neil and I went out together for supper – just the two of us – for the first time in eight years: our own special landmark and all because of Sox's reassuring presence."

We're grateful to JM Finn & Co for supporting the Dogs for Good campaign with a donation equivalent to the lifetime cost for one dog.